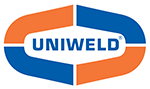 Uniweld Products, Inc. is a U.S. manufacturing company headquartered in Fort Lauderdale, Florida. Established in 1949, we have expanded to become one of the major manufacturers in the welding, HVAC/R (Heating, Ventilation, Air-Conditioning and Refrigeration), plumbing, and alloys markets.
Uniweld's product line includes U.S. Made welding, cutting, brazing and heating outfits, refrigeration tools, vacuum and charging hoses, welding, brazing and cutting tips, accessories, pressure gauges and alloys. We also operate and maintain distribution facilities in Florida, Texas, California, Ontario, and Saskatoon, as well as sales offices in South America and the Middle East. Uniweld takes pride in our manufacturing excellence, product innovation, financial stability, community, and genuine concern for our customers throughout the world.
For more information about Uniweld Product, Inc., visit our website at Uniweld.com.